Testimonies
---
Read these genuine, heartfelt testimonials written by families with a child or children enrolled in Kinderland's educational day care program.
Our Testimonies
"My family is very happy here! I love this daycare! The night before Thanksgiving my car broke down and with the help of Susan and her husband they got my truck towed to my house and the bought the kids pizza, also I only hope they know how thankful we are for everything."Christina Warren
"Teachers are all very kind and really care about the children. They take the time to build individual relationships with the kids, Thank you!"Anonymous
"Kinderland is such an awesome school. They have worked really hard with my son in making each transition work. The teachers and staff are incredible. Outside of being a great school they even work with us on the money side. Thanks for being awesome!"Nicholl Edwards
"We LOVE the flexibility of the entire program. I really enjoy getting the full written reports of my daughters day. All of the providers are so nice and friendly."Jana Leard
"Kinderland has been a very positive experience for Garrett. He has learned a lot of new things and loves all of his new friends and teachers. He always comes home singing new songs and sharing things he learned."

Garrett says: "I love my school. I play with my friends. I eat yummy food. Mrs. Kim and Ms. Holly are my favorites."Courtney Leadingham
"The staff at Kinderland are exceptional people. Patty is Harley's main teacher, she really takes time to get to know and create a relationship with her. She is overjoyed when my daughter grows in her development. the rest of the staff are all friendly and even speak in sign language! I can trust that my daughter is in good hands. They're very organized with paperwork, it's easy."Harley's Mommy
"My daughter enjoys coming to your school. Your staff is wonderful. Also Patty is amazing!"April
"Our children have gone to Kinderland since our son was in diapers. He is now 15 years old. Our children and we have many great memories here at Kinderland. My older children love coming in and seeing all the wonderful staff that they grew up knowing. Now their little brother is also following his older sibling's footsteps and attends Kinderland. Kinderland is a wonderful daycare with amazing staff."Sarah & Mason Palmateer
"Kinderland has been so good to my children and so friendly with myself and my husband. My youngest child always goes to staff with open arms. Definitely comforting knowing my children are happy and taken care of while I work and go to school."Eliesha
"My family is new to Kinderland this year. So far I am pleased with their child care program. They are doing all they can to help my 2 year old to adjust to child care as well as teaching my 4 year old his letters and other educational things."Kris A.
"I love all the teachers and staff. Everyone knows all three of my children by name, and treat them like their own children."

Finley: "I love hoppy frogs because Ms. Cyndi and Ms. Diane are really nice."

Max: "Ms. Tiffany and Ms. Pattie give me happy face. They're my friends."Tessa Frazer
"Kinderland has been just amazing. All of the teachers and staff are great, you can actually tell they like what they do. My son doesn't want to come home at the end of the day, and that makes me feel great about taking him everyday."Jannice & Jordan West
"The staff is absolutely wonderful and greets us with open arms. Jaxon loves to play at Kinderland. He tells me everyday that he has fun with Ms. Patty."Matt Stevens
"My daughter has improved in many ways and has completed many milestones with the help of the staff at Kinderland. My daughter enjoys coming to Kinderland to play and learn with friends she has made. My daughter has become really attached to Mrs. Kim and likes to tell us about her day and what she has learned. I am glad I chose this place for my daughter."Ashleigh Boone
"I thank God for Kinderland. they have a good program of teaching and the teacher are GREAT. My daughter loves to go there and meet friends and teachers."Deborah from Italy
"I've appreciated your openness to my flexed schedule per October! It really helped!"Bianca B.
"We love the flexibility in scheduling and billing. We appreciate the teacher's interest in our child's eating habits. We enjoy bringing home arts and crafts our child makes while in daycare."Chris & Adrienne Poen
"Ms. Tawnya is the best! Love the new play equipment!"Anonymous
"My daughter loves Kinderland! Miss Holly and Mrs. Kim are amazing preschool teachers and we just adore them! Thank you for all that you do!!"Jessica Licon
"The staff here at Kinderland are amazing. They care for my daughter how I would. They care with love. I recommend Kinderland to everyone."Kala Moore-Moreno
"Kinderland has been the best daycare we have ever had. The staff has went above and beyond to help our child grow in a positive way. Our child, William, looks forward to go to school everyday."The Carroll Family
"My child loves the music and yoga they do and the teacher encouraging new friends be made. I really appreciate the info about how my child's day was."Anonymous
"We are grandparents raising our grandchild, and we both still work 40 hour weeks. We had to find child care fast and Kinderland stepped up in a big way. The staff, all the staff, has a positive attitude everyday, and care a great deal for all the kids. Thank you so much for the great experience, and in helping us as you have."Grandma & Grandpa Reynolds
"All the faculty and staff are amazing! My children absolutely love going to ""school"" and seeing their teachers. I'm so glad I chose to have Kinderland care for my children."Christanie
"I have had my daughter at Kinderland for about two years now. After moving to another part of town I briefly changed preschool, but ended up bringing her back because the teachers at Kinderland are worth the little extra drive. My daughter can't wait to go to school. Kinderland is a place I feel safe to have my daughters and I can see daily the new things she is learning. Great place. Wish I could go instead of work."Ashley Stuck
"I have had nothing but an excellent experience the past two years my daughters have been here; the staff treat you as family and the director, Mrs. Wilson, is always available to talk to if you have any concerns that you want addressed. My daughter looks forward to going to school there everyday. I couldn't have chosen a more perfect place to love and care for my daughter while I'm at school or work."Carol Turner
"We love the staff. They are so caring. They are willing to work with our work schedules. Super easy to communicate with. Our daughter can be a picky eater but enjoys Kinderland meals."The Killgo Family
"All the staff at Kinderland are friendly and helpful. My 12 month old daughter enjoys the time she spends here."Giselle Lopez
"Kinderland is an extension of our family. We have three boys who have been going there for the last few years and to see them grow and develop has been a blessing. The staff treat our boys as their own and there is no one else we would trust to watch, grow, and love our children."Devon Smith
"Lulu loves learning to wash her hands. She talks about it all the time. She's just now 2."Anonymous
"Mrs. Vanessa is amazing in the transitional room. Always comforting to those having a hard time adjusting. And always reassuring to parents who are having a hard time adjusting."Kristina
"My children and I love Kinderland. they are amazing with all of the children. they have taught both of my children a lot. Kinderland prepared my son for Kindergarten."Anonymous
"My daughter loves it there, she has been here since she was 1 year old, she is now almost 3. She enjoys it so much she isn't ready to home most days. The staff is fabulous and takes care of my child as if she was their own."Ashley M.
"Kinderland has an awesome staff. My 4 year old loves going to school and always greets his teacher, Miss Cyndi, with a hug. My infant has only been going here for a couple of months but it seems as though he enjoys it too. If he is awake at arrival, he always has a smile on his face for Ms. Tawnya and is happy when I pick him up."Miranda
"When I first started at Kinderland everyone was really nice. As the months went on I felt like a family with all the ladies there. I am glad that I found a great place I can work at and watch all the children grow up. All three of my children love Kinderland."Siouxsie Bowden
"My Children and I have loved using Kinderland as our childcare for the last 12 years! They're like family to us and they treat us like family too! Highly recommend Kinderland!"Monica Ochoa
The staff is very friendly and positive; and always keep me very informed. The flexible hours are wonderful. My son loves coming to see his friends.Breanna
The teachers and everyone at Kinderland are very caring. My daughter loves going to school.E. A.
My daughter has been going to Kinderland since she was 1 1/2. She has excelled so much since attending Kinderland. The teachers are amazing (Miss Holly) and very good with my daughter. She has learned so much and is continuing to grow each day.A. B.
My two girls have been going to Kinderland for 8 years. The Kinderland staff has been very compassionate and supportive to the needs of our family. It really has grown into a sense of family. I am happy to have them to help with the ups and downs of raising kids!S. M.
I love Kinderland. My kids have been here for years, and I love the teachers and staff.S. H.
Our son has been attending Kinderland for 3 years now and it has been wonderful for him. At Kinderland he is not just at day care, he is at school. They provide a fun, safe environment that encourages learning. The staff has always been caring and attentive to his needs. It is a well run facility with a great team.Theresa
I am very excited for our newest addition to start child care at Kinderland. My children have been attending the facility for the last eight years and I have not one complaint. They all enjoy going and love their teachers, as do I. I don't know what I would do without Kinderland and all the staff. Thank-you for being so wonderful and taking such great care of my kids.Monica
My toddler loves Kinderland. He has fun everyday and feels comfortable with the staff. We love Kinderland like they are family.Joy
My two children have come here for close to five years now. My son was two months old and has just graduated from the PreK program. Next year they will not be going here because we have moved. I love this place; the kids love this place. They are all like family to us. We will miss you Kinderland.Jennifer
My overall experience at Kinderland is good. The staff is good. I especially thank and appreciate Miss Cheryl for being a good listener and a problem solver and Miss Shannon and Miss Holly for being open and honest with me regarding my children's well being.I. O.
Kinderland has been a wonderful experience for our PreSchooler. He has grown tremendously with the help of Miss Pattie and Miss Cyndi. When we had a family emergency the staff was wonderful in helping us arrange childcare on short notice. We have loved the Kinderland family.M. E.
In my experience with Kinderland, I have felt like the staff has been very attentive to my concerns and felt they were open to suggestions. The staff is very warm and welcoming, always greeting the children with a smile and using the time spent with the children to the max by including education and learning as a motive.S. K.
It has been a wonderful experience for my kids to be at Kinderland! They have learned how to sit still in a structured setting, and their ability to share with others has improved. Thank-you for everything!K. C.
Teachers are great. My daughter always likes coming to play here.H. S.
My kids really looked forward to going to PreSchool at Kinderland everyday. All of the staff were really nice and helpful. I felt like they really cared about my kids.H. B.
A few years ago, I was looking for a daycare for my three kids. I saw several of them, and was totally shocked! Someone told me to try Kinderland and it was GREAT! It's the best place to leave my kids in the morning and anytime. They were always cared for, loved, and taught in a very special way. The two oldest ones are now school age, but we still use Kinderland on holidays and vacation times. The kids love Kinderland and so do I.Flori
Kinderland has been awesome! I've been bringing my kids here for almost 9 years and have never had any complaints. My youngest has cancer and the staff at Kinderland have been supportive and caring. They listen to her needs and always listen to what I have to say. My girls even want to go when I'm not working!!Amanda E.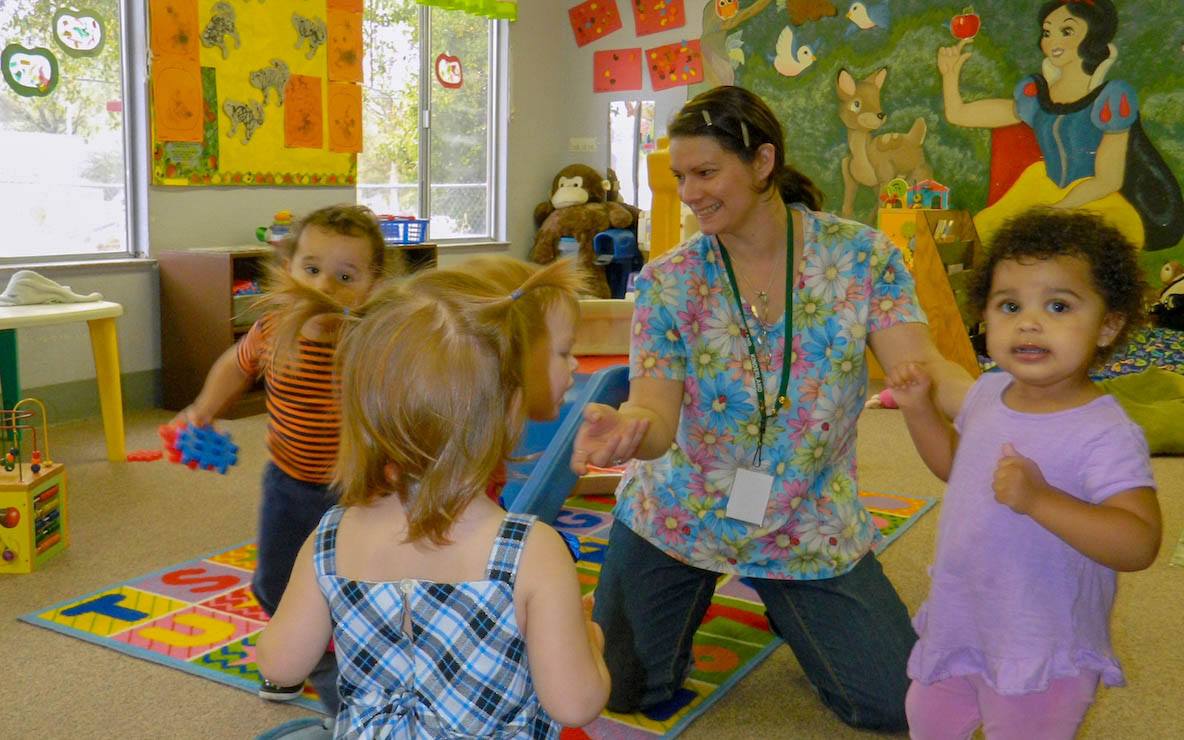 ---